Yadah Da King Radio is a gospel urban music talk show, that hosts an online podcast, geared to lifting the name of Jesus Christ in our urban culture! Yadah is the Hebrew word for powerful praise with extended hands, standing on your feet!! Da King is none other than JESUS CHRIST!!! The show founded and hosted by Marquis "Don Christi'on" Franklin in 2009, has consistently impacted lives all across the globe with the perfect blend of our slogan "Bangin' Music, Upliftin' Talk & Abundant Life." DeeJay Kingdom 7 (Colorado) is the co host and has been apart of the YDK team for the past 3 years, we also have had FROG & Miss Cole be apart of the Yadah Da King Radio in the past. When asked why Yadah Da King Radio, Don Christi'on states, "We felt the need of a radio show that gives advice on how to live an affective Christian life." We play music on a submission basis only for artists in the Gospel Urban Community from Indie Artists to Majors based on the sound we enjoy, thus making our station unique.
Our show is currently aired on
www.BoldRadio.net ~Tuesday & Thursday 2pm EST (11am PST)
www.BreatheLifeRadio.com ~Tuesday 6pm PST
www.GospelNW.com ~Friday 9pm PST
www.HourofGospelSwagger.com ~Saturday 4pm EST (1pm PST)
www.K711Radio.com ~Thursday 7pm CST (8pm PST)
www.Tvo1iradio.tk ~Sunday 830pm CST (730pm PST)
www.TheStarRadio.com ~ Wendesday 830pm EST (530pm PST)
www.UCCSRadio.edu ~Thursday 5pm & Sunday 12pm PST
WOGS 103.9 FM/ in Cleveland, OH www.WOGS1039fm.com ~Monday & Wednesday 2pm EST (11am PST)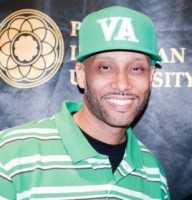 DeeJay Kingdom 7
C.L. Hunter is the CEO of Christ Hu Nterz Productions, LLC, a Christian record label based out of Colorado, CO. His vision is to support independent Christian artists. He has been a DeeJay for 2 years and has hosted shows such as The Spirit Radio on KLAY1180Am and CEO of KDMQ the Spirit Internet Radio. He will be joining us for the Thursday night episodes of Yadah Da King Radio!