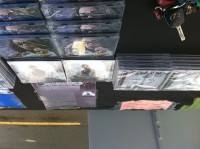 I just wanted to come and share my input about some things that may go on in our genre entitled "HHH" Holy Hip Hop. To cut to the chase, I think it is very interesting that many of us want other fellow Artists to support one another but we don't support each others projects. I have heard plenty of HHH Artists say things such as "I don't listen to HHH" or "I'm not feeling any one else's projects" but most of these sayings maybe why our genre as a whole isn't being widely accepted. Now, Can I Keep It Real, There are the occasional albums in our genre that have been a huge success, but then there are many great artist who are barely surviving to get 1000 album sales.
Another thing that I see happening often is this, supporters of HHH will only purchase the big name artists. They will come to your table and ask do you have the new … album and if you don't they will holla back LOL. Is this something that will help further the ministries of many different artists who may share the same vision? I'm just brainstorming about different ways we can affectively allow this genre to reach more people. I think that we need to give some of the other artists in our genre a fair chance and listen to their music and then suggest whether or not you will support them!
So these are my questions!
SHOULD HHH ARTISTS SUPPORT OTHER ARTISTS?
SHOULD HHH SUPPORTERS ONLY PURCHASE CDS FROM SUCCESSFUL HHH ARTISTS?
WHAT DO YOU THINK WILL ALLOW MORE PEOPLE TO HEAR THE MESSAGE OF CHRIST WHICH SHOULD BE THE MAIN POINT OF HHH?
Leave your feedback and input and let me know what you think!
-LIFE